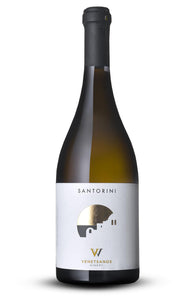 Tasting Notes
Delicate, intense and complex aromas of pear, white flowers and citrus fruits. Dominant flavours of bitter orange, with hints of mastic and fennel root.
A rich, oily texture in the mouth with a highly refreshing lemony acidity and the 
characteristic Santorinian saltiness. An enjoyable long aftertaste.
Food Pairing
Ideal companion for seafood, grilled vegetables, fish, pasta and fresh or salty cheeses.
ABV
13.0%
Variety Composition
Assyrtiko